Famous Author Special Offerings
Edgar Rice Burroughs was a creative genius. Besides the famous character of Tarzan, Burroughs published science fiction and crime novels. Burroughs was born and raised in Chicago. He loved art and poetry and always would dream of horses, which came true when he joined the army calvary. He was kicked out the army. He later married Emma Centennia Hulbert, first of two wives (divorced in 1934). He started writing not because he loved it but needed money. Burroughs wrote in 1911, Under the Moon of Mars, actually a story in a magazine and he developed it into a novel series. The story is about John Cater, who is transported to Mars following a battle with Apaches.
The martian series totaled 11 books. His true successful and memorable novel is Tarzan. Burroughs wrote a series of 25 Tarzan books. He created suspense between each novel. He would use cliff hangers to make the reader feel the need to read another of his books. He was a true genius when it came to writing his books. Tarzan brought success to Burroughs especially after the movies began in 1918.
Edgar Rice Burroughs died of a heart ailment on March 19, 1950.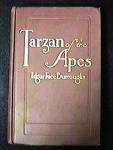 Tarzan of The Apes
    Edgar Rice Burroughs
    What is there to say about the original Tarzan novel. Good condition no dust jacket.
    $425
Tarzan and The Foreign Legion
Edgar Rice Burroughs, Tarzana, 1947
$425
First edition in very good condition with light chipping to spine ends. Tarzan's adventures in Sumatra.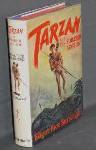 Tarzan and The Jewels of Opar
    Edgar Rice Burroughs, A.C.McClurg, 1918
    First edition, lightly soiled in green cloth. No dust jacket. The fifth Tarzan novel.
List of Edgar Rice Burroughs Novels
Tarzan of the Apes (1912)
The Return of Tarzan (1913)
The Beasts of Tarzan (1914)
The Son of Tarzan (1915)
Tarzan and the Jewels of Opar (1916)
A Princess of Mars (1917)
The Gods of Mars (1918)
Jungle Tales of Tarzan (1919)
The Warlord of Mars(1919)
Tarzan the Untamed (1920)
Thuvia, Maid of Mars (1920)
Tarzan the Terrible (1921)
The Mucker (1921)
The Chessman of Mars (1922)
Tarzan and the Golden Lion (1923)
Pellucidar (1923)
The Land that Time Forgot (1924)
Tarzan and the Ant Men (1924)
The Cave Girl (1925)
The Moon Maid (1926)
The Mad King (1926)
Tarzan and the Terrible Twins (1927)
Tarzan and the Lost Empire (1929)
The Monster Men (1929)
Tarzan at the Earth's Core (1930)
Tarzan the Invincible (1931)
Fighting Man of Mars (1931)
Pirates of Venus (1934)
Back to the Stone Age (1937)
Carson of Venus (1939)
Escape on Venus (1946)
John Carter of Mars (1964)
Beyond the Farthest Star (1964)
Efficiency Expert (1966)
I am a Barbarian (1967)
The People That Time Forgot (1977)
Tarzan the Lost Adventure (1996)
Call 727-200-2713 ask for Steve V.